Our Team
Our Board Certified Plastic Surgeons, Dr. Babbitt and Dr. Clukies deliver outstanding patient care and provide the attention to detail you deserve.
Russell Babbitt, M.D.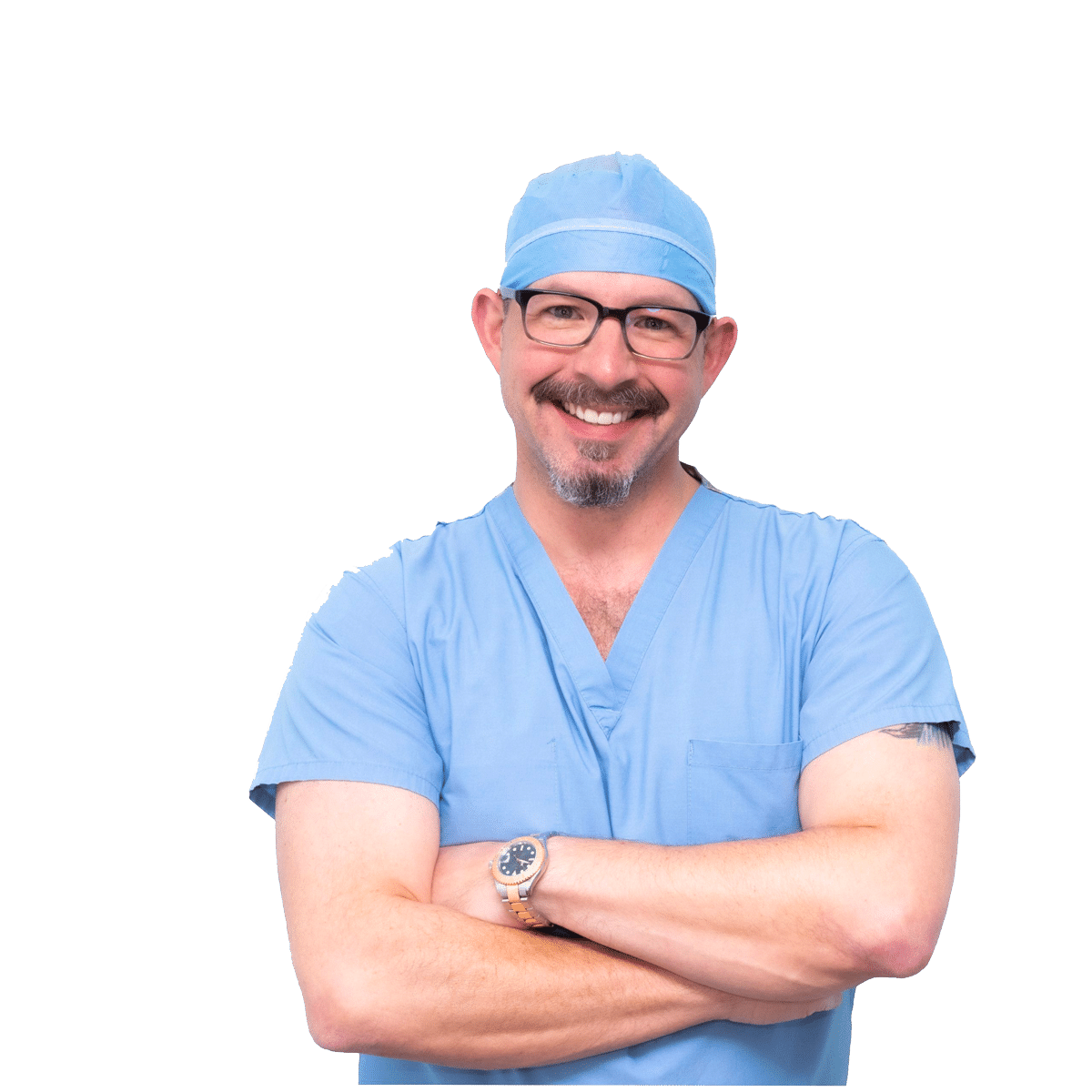 Plastic and Reconstructive Surgeon
Russell Babbitt, M.D., specializes in aesthetic and reconstructive surgery of the breast, face and body, with a special focus on revision and secondary cosmetic breast surgery.  He also has extensive experience with facial reconstruction after skin cancer removal. Dr. Babbitt is certified by the American Board of Plastic Surgery.
Education and Training
A native of southeastern Massachusetts, Dr. Babbitt graduated from UMass Dartmouth in 1999 with a degree in Biology. From there, he went on to University of Massachusetts Medical School, and received his M.D. in 2003. Dr. Babbitt continued at UMass Medical Center for his internship and residency training in General Surgery, and completed his training in Plastic and Reconstructive Surgery there.
Research
In addition to his clinical training, Dr. Babbitt completed a two-year research fellowship in the areas of microsurgery, human anatomy, limb reconstruction, complex models of wound healing, and abdominal reconstruction. Dr. Babbitt co-authored a textbook chapter as well as several journal articles, and has presented research at regional, national and international meetings.
Service
Dr. Babbitt has been part of volunteer programs at every stage of his career, and has found these experiences to be some of the most fulfilling aspects of his professional life. During residency and fellowship he participated in multiple trips to South America, where he was part of a team that performed cleft lip, cleft palate, burn and congenital hand surgery. He plans to continue this work throughout his career, and encourages everyone to support programs that help to bring much needed medical and surgical care to those who are less fortunate.
Testimonial
"Dr Babbitt is a skilled physician who does awesome plastic surgery! Somewhere along the way in his training he never lost his compassion for the human spirit. He is gentle, kind and a supportive clinician. He makes his patients feel at ease utilizing his excellent teaching skills along with humor, self-confidence and tenderness. He should be on the faculty of a med school mentoring future physicians. His treatment of my 17 year old daughter was wonderful. I have been a nurse for over 30 years and he is by far one of the best physicians I have ever encountered."
-Marilyn M.
Independent Reviews
Please also see Dr Babbitt's reviews at vitals.com and realself.com!
Donald Clukies, M.D.
Plastic and Reconstructive Surgeon
Donald F. Clukies, M.D., specializes in the general practice of all forms of Plastic Surgery. This includes all forms of reconstructive and cosmetic surgery of the skin, breast, face and abdomen as well as cancer surgery and hand surgery. He is Board Certified in Plastic and Reconstructive Surgery as well as General Surgery and is a member of the American Society of Plastic Surgeons and a Fellow of the American College of Surgeons.
Education and Training
Dr. Clukies' undergraduate and medical education was conducted in Syracuse, New York, where he first earned his B.S. in Biochemistry in 1969 from the SUNY College of Environmental Science and Forestry. He then went on to earn his M.D. from SUNY Upstate Medical School in 1973. Following that he completed a 5 year general surgery residency at The New York Hospital/Cornell Medical School in New York City. His specialty training in Plastic and Reconstructive Surgery was completed at the University of Rochester Medical Center in 1980.
Practice and Living
Dr. Clukies moved to the Fall River area in 1980, where he set up a solo practice in Plastic and Reconstructive Surgery. He was the first such specialist dedicated to this community. After living in Tiverton for ten years and raising two boys, Dr. Clukies moved to Portsmouth, Rhode Island, where he currently resides. When not operating, Dr. Clukies enjoys competitive running and maintains a very active lifestyle. His other interests include gardening, fixing anything that needs to be fixed, and restoring old cars.
Testimonial
"Dr Clukies is an excellent doctor. He did my tummy tuck a year ago and the result is unbelievable. I check out other people on line and his work exceeds most of them. He is a hidden gem and a wonderful man."
Christina DeVincent, PA-C
Physician Assistant
Christina is a highly skilled and experienced physician assistant who works closely with Dr. Babbitt to care for patients through the full spectrum of plastic surgical care, including preoperative evaluation, postoperative care in and out of the hospital, as well as aesthetic treatments.
Education and Training
A Michigan native, Christina received a Bachelor's Degree in Physiology from Michigan State University in 2006. She then completed a Master's in Physician Assistant Studies at Central Michigan University, before going on to obtain specialized training in New York at the Montefiore Medical Center Surgical PA residency.
Practice and Living
Since leaving New York, Christina and her dog Addie have found their new home in Southern New England. She is thrilled to be a part of the plastic surgery team with Dr. Babbitt, and strives to give quality and compassionate care to her patients.