Cellfina™ – an FDA-cleared Cellulite Solution
Presenting a minimally invasive, one-time procedure clinically proven to improve the appearance of cellulite in the buttocks and thigh areas of adult females for long-lasting results!

2015 Beauty
Breakthrough
Award Winner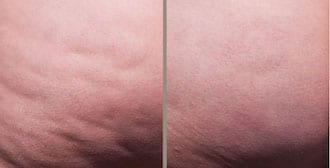 How it works
Performed in a doctors office by a qualified physician, Cellfina™ treats the primary structural cause of cellulite - the connective bands woven throughout fat in the thighs and buttocks. These tight bands pull down the skin, creating the puckering you see on the surface of the skin. Similar to a rubber band under tension, once released, the treated skin bounces back to smooth itself out. This results in a smooth and healthy look that gives patients the confidence to wear a bathing suit and higher hemlines.
Patients in the clinical study showed significant improvement within three days after the treatment. Two years after treatment, 100% of Cellfina™ patients had noticeable improvement (based on the Global Aesthetic Improvement Scale (GAIS)).
Our doctors are trained and qualified in providing the Cellfina™ treatment.
"I was extremely pleased with the whole process. The results have continued to improve over time and I would recommend it to anyone!" - Patti, Cellfina™ Patient, Louisiana
Frequently Ask Questions about Cellfina™
What is Cellulite and How Cellfina™ works!