Vanquish ME™ – New Technology for Eliminating Unwanted Fat
Vanquish ME™ is a Noninvasive, Nonsurgical Solution for Removing Unwanted Fat in your midsection.
Harness the power of safe thermal energy.
Lose your unwanted inches!
No downtime, no recovery time – enjoy a slimmer, trimmer you in just a few weeks.
Buy 4 Vanquish Treatments
Get 2 FREE!
*Of equal or lesser value. New patients only. Must mention ad when booking appointment. Limited time offer.
What is the technology behind Vanquish ME™?
Vanquish is a state-of-the-art, non-invasive, non-contact Radiofrequency (RF) device designed to eliminate up to 59% of excess mid-section fat (in targeted areas of abdomen, back and hips) when diet and exercise have failed. For those who want results but don't want to undergo the risks and downtime of a surgical procedure such as liposuction, Vanquish can help you conquer the core.
The Vanquish device, FDA-approved for deep tissue heating and circumferential reduction of the abdomen, is an arch that extends across the target area without touching the patient. During the session, the patient lies comfortably on a table while the device delivers controlled RF thermal energy to the area, heating the skin to 101 degrees and the underlying fat to 120 degrees, destroying the fat cells. Over the next several weeks, the lymphatic system eliminates the dead fat cells, naturally flushing away excess fat.

Vanquish ME™ client's photos before and after treatments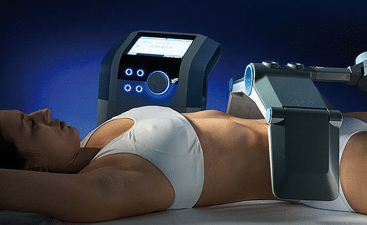 Vanquish ME™ technology in action
Reclaim your Body with Vanquish ME™
So, your body doesn't look like it used to. You've put on a few pounds, especially around the waist. And you've tried everything to get rid of it, but nothing's quite worked. Time to give up? Never! Vanquish ME is just what you've been looking for!
Vanquish ME™ is an amazing non-surgical weight-loss device that can help you to:
• Get rid of over half of the fat cells in your waist and midsection
• Destroy those love handles and muffin tops
• Perfectly shape your figure
• Improve both your confidence and self-image
Vanquish ME body contouring will allow you to finally get the body you've been looking for. Specialists worldwide agree that Vanquish ME is safe and effective. After only a few quick sessions, Vanquish ME will leave you with the body you want, and the confidence you need.
This machine is magnificent! - Whoopi Goldberg, The View
Frequently Ask Questions about Vanquish ME™
Contact us to schedule a consultation to discuss how Vanquish ME™ can help you achieve your goals.
Vanquish ME™ techology developed by BTL Aesthetics.