Due to its three-dimensional nature, the nose holds a prominent role in balancing the face. This central feature is framed by the forehead and eyes, the cheeks, and the mouth. Additionally, the nose fulfills a functional role. It aids in breathing, even moistening and warming the air as it passes through the nostrils toward the lungs. The nose aids in our sense of smell and facilitates proper sinus drainage. When either internal or external aspects of the nose are imbalanced, a person may wish to seek rhinoplasty.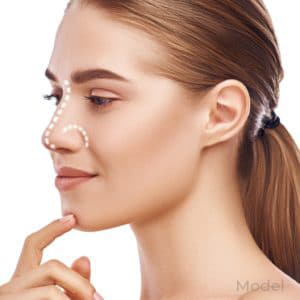 What Is Rhinoplasty Surgery?
Rhinoplasty, or a nose job, is the surgery in which the shape and appearance of the nose are refined. The procedure may be performed in a few different ways and may focus on one or more parts of the nose. For example, septoplasty is a type of rhinoplasty that adjusts internal aspects of the nose to improve breathing. Cosmetic rhinoplasty, as well, may focus on one area, such as the tip or the bridge, to create more harmony between the nose and other facial features.
Who Is A Candidate For Nose Surgery?
The ideal candidate is one whose facial development is complete. Typically this occurs sometime during the teen years. Rhinoplasty patients should also be in good physical and emotional health. Alongside an interest in correcting a cosmetic or functional problem, the happiest rhinoplasty patients are those who understand the limitations of this procedure. "Perfect" is not a word we use when describing any nose, regardless of a nose job.
What Can A Rhinoplasty Correct?
People seek rhinoplasty for a variety of different reasons. Some want to breathe easier. Some want to feel more confident in their appearance. Rhinoplasty can achieve both by addressing concerns such as:
Excessive width
Crookedness
Deviated septum
A large hump on the bridge of the hose
Large or oddly shaped nasal tip
Low bridge height
The Rhinoplasty Procedure
Rhinoplasty is an outpatient procedure that is performed in an accredited surgery center. Patients receive deep sedation or general anesthesia throughout the procedure. Vital signs are monitored by dedicated surgical staff.
The surgical technique is selected based on surgical goals and the patient's anatomical structure. Rhinoplasty may be either "open" or "closed." Open rhinoplasty involves an incision in the tissue between the nostrils to access internal cartilage and bone. Closed rhinoplasty is conducted through internal incisions only. Either approach provides access for the bone, soft tissue, and cartilage reshaping that is needed to achieve the intended result. Patients should not assume that either an open or closed rhinoplasty is the best choice. Each technique offers advantages, and the planned approach is customized based on the goals for surgery.
What Is Revision Rhinoplasty?
Rhinoplasty is one of the most complex plastic surgery procedures. Each case must be approached carefully and with an accurate understanding of the patient's unique facial structure. Realistic expectations on the patient's part also contribute to the sense of satisfaction that is felt after the nose has fully healed. Revision rhinoplasty is a procedure that can be performed to correct issues that were either not corrected in the initial nose job or that were caused by the first surgery. Due to the natural anatomical structure of the nose, revision surgery is more complicated and risky. For this reason, it is critical to obtain treatment from a board-certified plastic surgeon with extensive experience in revision procedures.
Will I Have Bruising Under My Eyes After Rhinoplasty?
Bruising is one of the common side effects of any injury to the skin and superficial tissue. It is also one of the side effects that patients may fear most about rhinoplasty. Although some bruising should be expected, patients should not worry that their eyes will look black and blue. In some cases, bruising is nothing more than slight discoloration that lasts a few days. The cause of bruising is blood leakage from the microcapillaries in and around the nose and eyes during rhinoplasty. As the leaked fluid is absorbed, bruising fades. This usually occurs within 7 to 10 days.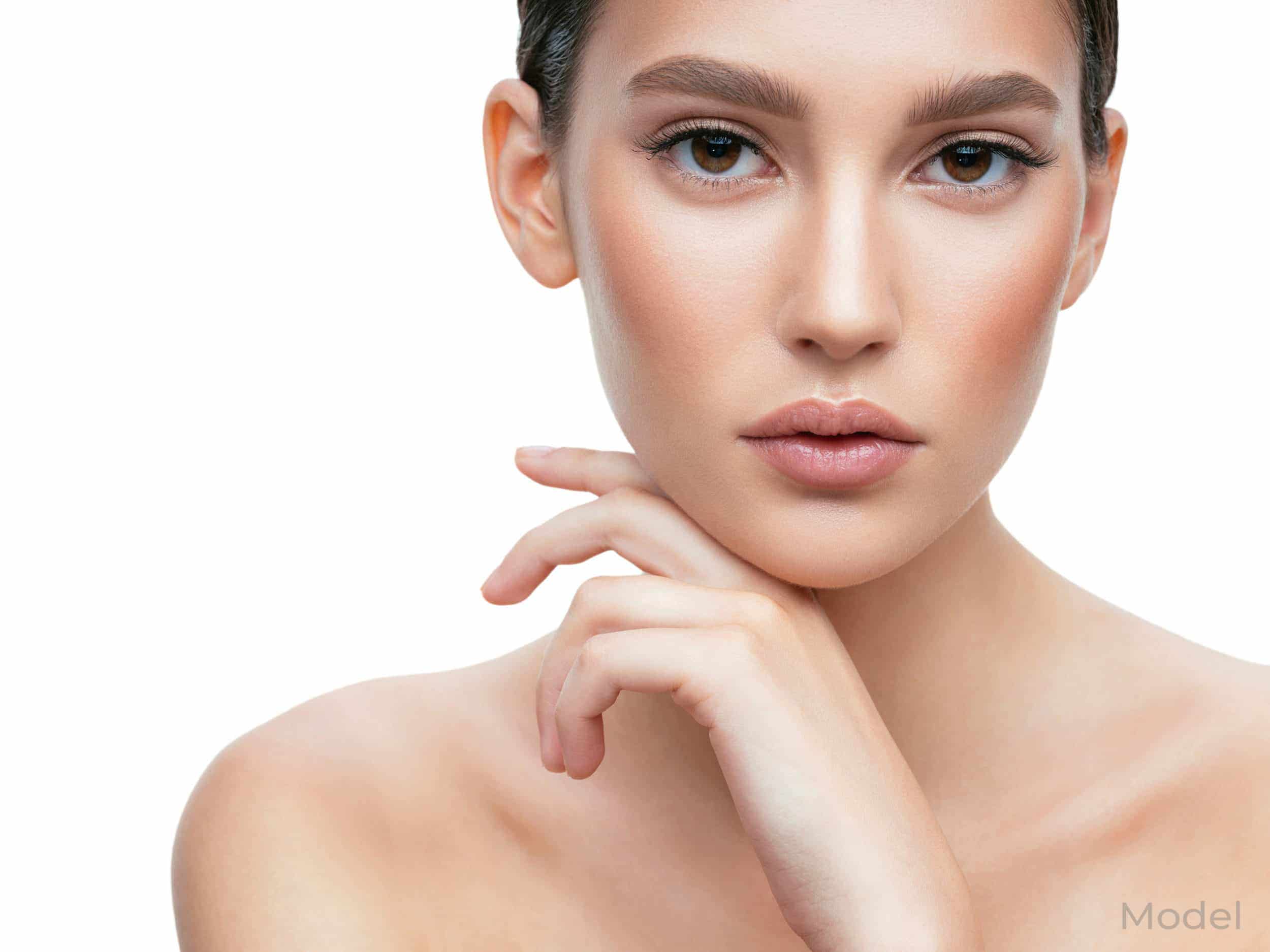 How Long Is The Recovery After Nose Surgery?
A follow-up visit is scheduled 5 to 7 days after rhinoplasty. During this visit, stitches are removed and the nose is examined to observe how well tissue is healing. Patients often return to work within 7 to 10 days of their procedure. At that time, minor swelling remains. Some bruising may also be noticeable but can typically be covered with makeup if needed. It can take up to one year for the outcome of rhinoplasty to be fully apparent.
Are There Any Risks To Rhinoplasty Surgery?
Surgical procedures carry general risks including bleeding and infection. Rhinoplasty is considered a safe and beneficial surgery when a thorough consultation and examination are performed beforehand. The most common rhinoplasty complication is an undesirable cosmetic result. This can occur despite proper planning and performance, though the chances of asymmetry and other concerns are decreased by choosing an experienced plastic surgeon.
How Soon After Nose Surgery Can I Play Sports Or Exercise?
It may be possible to resume certain activities within two weeks after rhinoplasty surgery. However, this can vary from one person to another. The more strenuous the activity, the longer the recovery period before it can be resumed. Heavier resistance workouts may begin three to four weeks after surgery. Sports typically need to be engaged in carefully and only after cleared by the surgeon. Because it can take up to one year for the nose to heal completely, our primary objective is to avoid unexpected bumps and injuries.
Can I Blow My Nose After Rhinoplasty Surgery?
Patients may have an urge to blow their nose during their initial recovery period because swelling creates a sense of congestion. Nose blowing can have a detrimental effect on the results of rhinoplasty if done aggressively or too soon after surgery. There is no pinpoint timeline for when nose-blowing can take place. Generally, most patients can safely blow their nose (gently) after about two weeks of recovery.
Rhinoplasty Before & After Photos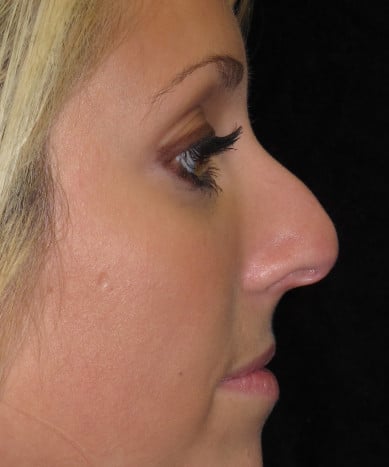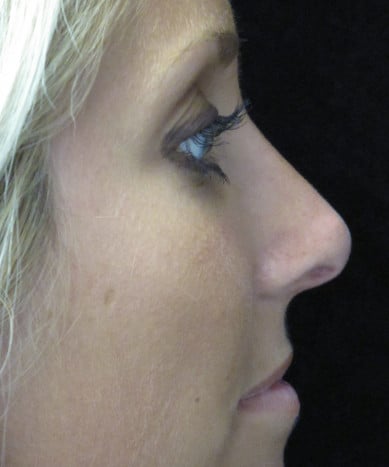 If you are interested in rhinoplasty surgery or want to learn more, schedule a consultation with us by calling (508) 567-3202. Our practice serves Fall River, Massachusetts, and surrounding areas.